This week after Luke Perry suffered a massive stroke and died at just 52 years old, we suffered a collective wake up call. Life is often too short and health is not a guarantee.
Kara Swisher shared her own experience with a mini-stroke while she was in Hong Kong for an important international conference. When what she thought were migraine symptoms turned alarming, she texted her brother, a doctor, who recognized the signs and urged her to go to the hospital immediately. Luckily she got there in time for doctors to intervene.
"It was my brother who saved my life," Swisher wrote. More precisely, it was his quick analysis of her symptoms and his training to recognize stroke that safeguarded her future."
It goes without saying that doctors are critically important, but not everyone has a doctor in the family or convenient access to speak to one at a price they can afford.
What if we could democratize Kara's experience with her brother, making actionable health information available to everyone, anytime they need it, for free?
This question inspired us to found K Health in 2016. We believe that if you give people access to look up how thousands of doctors treated similar people, they can quickly make life-saving health decisions.
We ran Ms. Swisher's case through K as she describes her symptoms in the article, and in the time it took her to text her brother, she could now use K to see that almost 70% of cases like hers were TIA or Transient Ischemic Attacks. Another 30% were strokes. Most people got emergency care and a CT scan.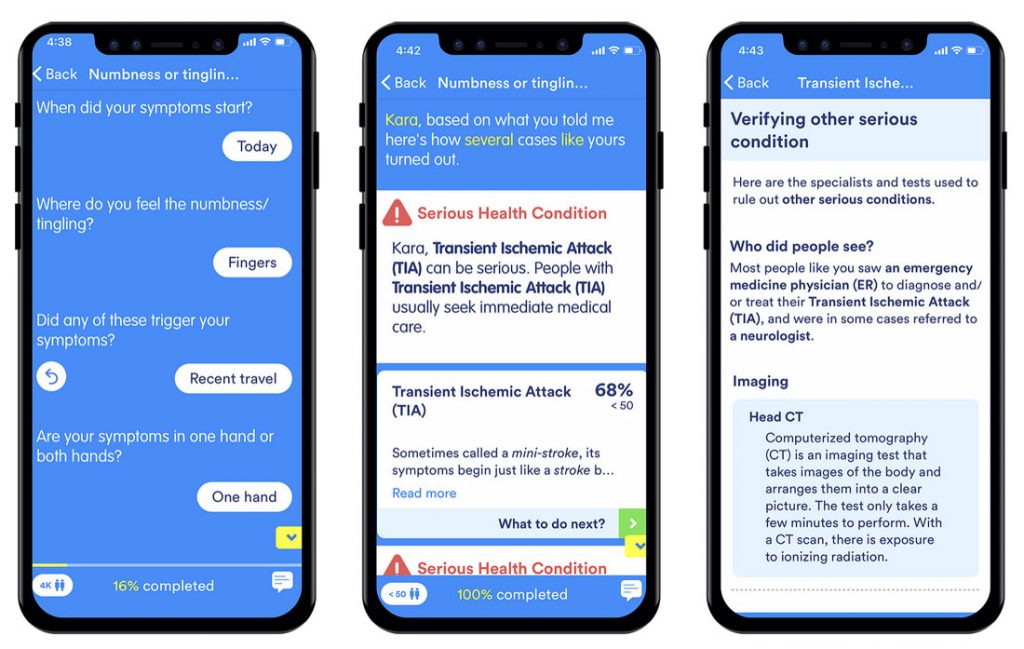 Of course, if you're experiencing serious symptoms, you should seek immediate medical care. But if you have symptoms that you aren't sure about and it's not an emergency, taking two minutes to check them in K can be enough to set you in the right direction. Download K and set it up on your phone now so you're ready whenever you need it.
K Health articles are all written and reviewed by MDs, PhDs, NPs, or PharmDs and are for informational purposes only. This information does not constitute and should not be relied on for professional medical advice. Always talk to your doctor about the risks and benefits of any treatment.