K Health conducted a survey of over 1,000 Floridians to understand how locals felt about the cost of and access to quality healthcare. With 57% knowing what it's like to be unable to see a doctor due to high costs, convenience, or unavailability, it's clear that accessible healthcare options are in demand.
Despite being ranked 18 among all 50 states for their quality of healthcare by US News, and 13 for public health, Florida is number 41 for access to healthcare.
The survey found 36% of people surveyed thought their healthcare was too expensive, and over half spent more than $500 in the past year. 36% also thought the cost of their medication or treatments were too expensive. 18% still owe money in medical bills, and 26% didn't know that some could be negotiated.
Despite 44% of people having employer-sponsored health insurance, 41% would switch jobs if they could get better health insurance.
Unlike traditional healthcare providers, Floridians don't need insurance nor an appointment to get treatment and care from K Health. A one-time visit is $35, and a membership, which includes unlimited 24/7 access to doctors, is $29/month.
Check out the full results below, broken down by gender: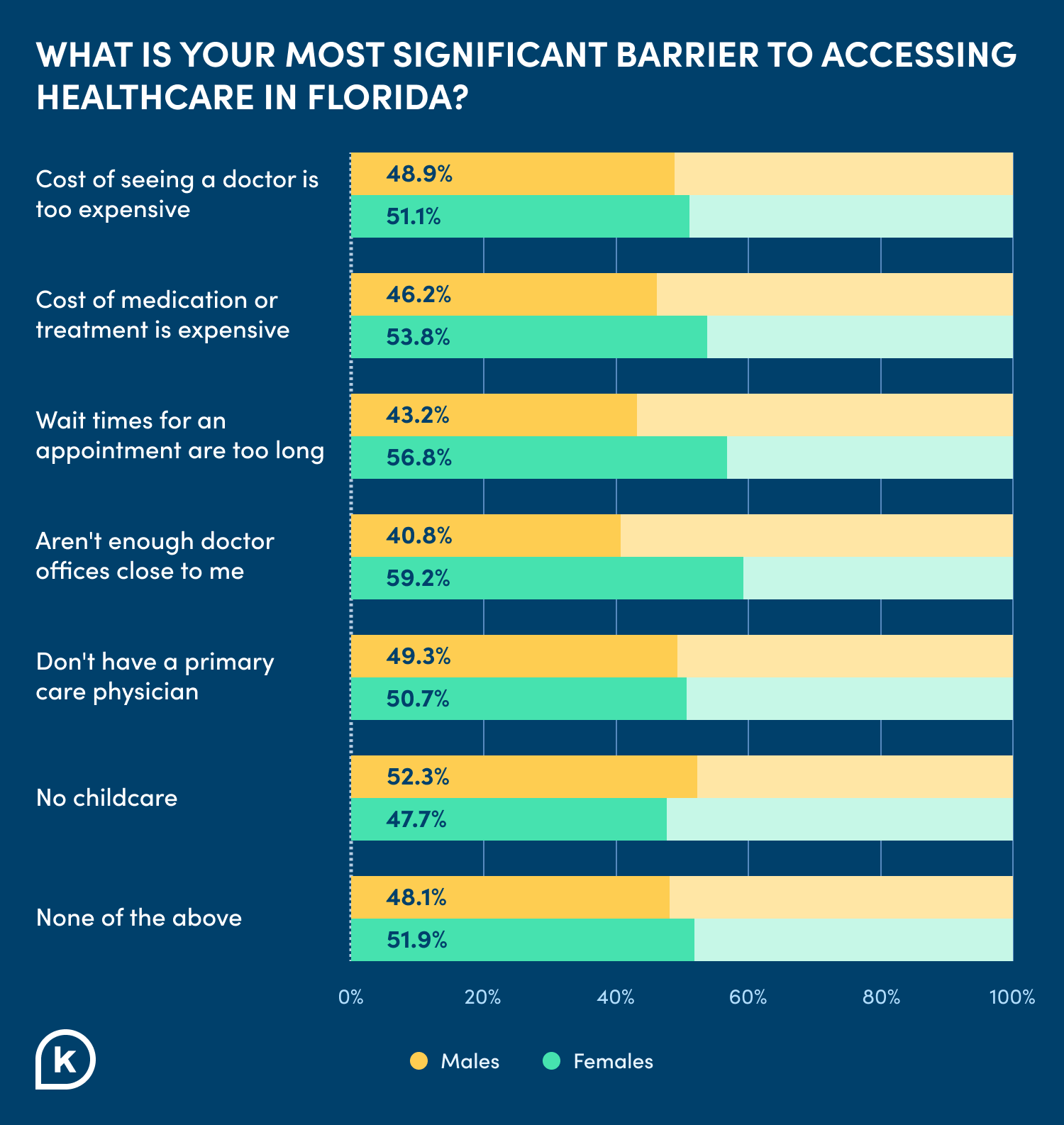 More results below…
Medical Expenses are Through the Roof
In the past year:
88% have spent money on medical expenses
55% spent more than $500
10% spent $5,000 or more
Only 12% spent no money on medical expenses
18% owe money in medical bills:
26% have negotiated the cost of a medical bill
26% didn't know costs can be negotiated
Costs and Wait Times Prevent Floridians from Getting Care
57% have experienced wanting to see a doctor, but were unable to due to high costs, convenience or unavailability
95% agree that healthcare in the U.S. is too expensive
36% said the cost of seeing a doctor is too expensive
36% said the cost of medication/treatment is too expensive
Floridians Need Better Health Insurance
Only 44% have employer-sponsored health insurance
20% have public health insurance
41% would switch jobs if they could get better health insurance
Low Trust in the Healthcare System
31% have less trust in the healthcare system after COVID
11% said they don't plan to have their children vaccinated for COVID