In honor of Women's History Month we're profiling some of the amazing female leaders at K Health. To kick off the month, we're chatting with the Director of K Pharmacy, Nancy Butler, PharmD, RPh.
Ever heard that certain smells can trigger memories? While exploring potential careers in healthcare, the smell (or lack there-of) of a pharmacy from the town she grew up in led her down the path of pharmacotherapy.
From visits with her local pharmacist in Nigeria, to behind-the-counter of a family-owned NYC apothecary, to optimizing medication delivery with technology, Nancy is setting the standard for what patient-centric pharmacotherapy should look like moving forward.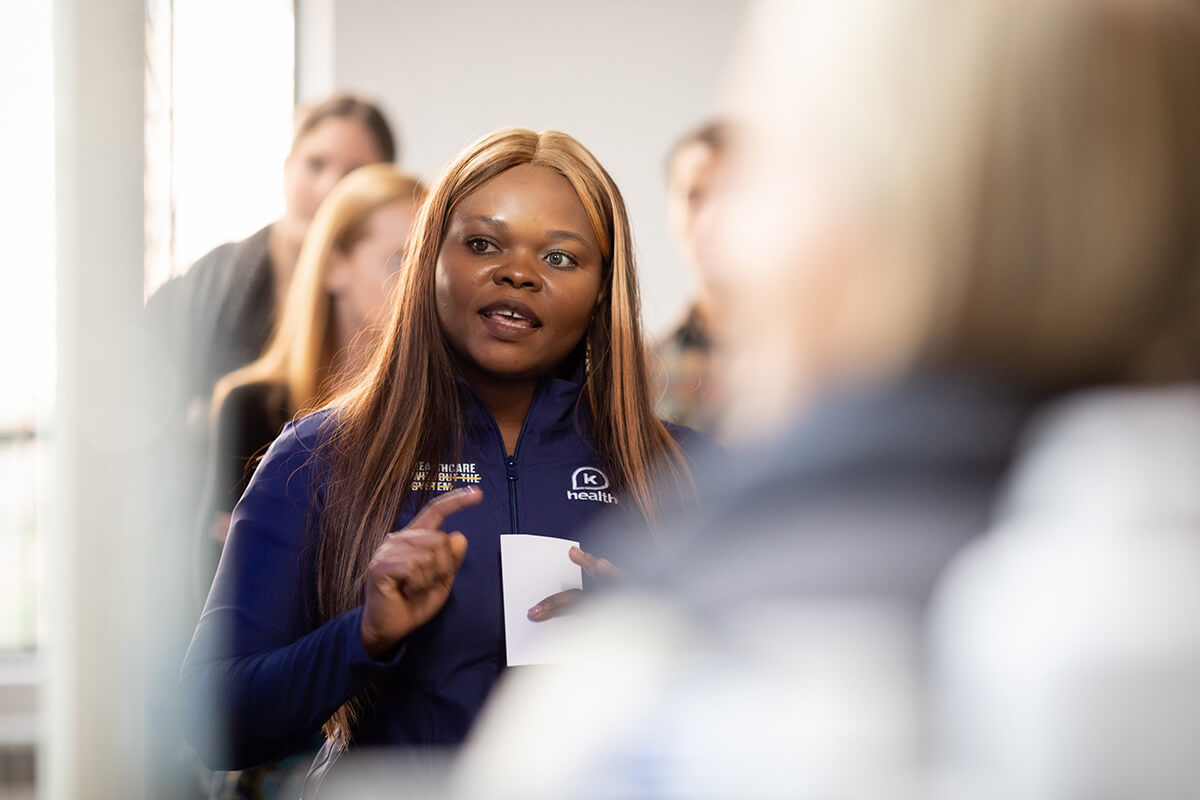 Tell us about your early years. Any good stories?
I was born in Berrien Springs, Michigan, but my first childhood memory is traced to the eastern part of Nigeria, Enugu.
My parents were Nigerian immigrants and we returned shortly after my father earned his Doctorate in Education.
As a child, I developed a connection with nature and the adventures it offered. It was this adventurous spirit that led me to the local pharmacy a few times. My first visit was a result of a nail puncture sustained from exploring a construction site—I needed a tetanus booster.
I recall being very impressed with how neat, organized, and knowledgeable the pharmacist was.
I especially liked the fact that the pharmacy did not smell like a hospital.
Did you always want to be a pharmacist?
I always knew that I wanted to have a career in healthcare, but had difficulty deciding which path to take.
I moved to New York to finish high school. My uncle mentioned that Long Island University-Brooklyn had a pharmacy program and brought me a few brochures. The brochures triggered the positive memory of my encounter with the pharmacist in Nigeria.
The rest was history!
Your first job…love or hate?
I loved it! I was a retail pharmacist at a second generation family-owned apothecary on 6th avenue in New York City.
It was high volume, appropriately staffed and we had automation. The owner was a pharmacist who was extremely creative, innovative, and very big on creating a sense of belonging.
These things helped shape me into the pharmacist I am today—interested in incorporating technology and focused on creating a great environment for my team.
Can you share a difficult career moment and how you got through it?
Leaving my first job was very difficult. I lost my eldest sister to leukemia a few months after I was hired, and I struggled to remain an energetic and vibrant pharmacist. How dare life go on as usual?
I needed to change my surroundings in order to start the endless journey to healing.
I became super aware of mortality, and resolved to focus not only on patient outcomes, but also equally on my team.
I strive to create a sense of ownership for all team members, and facilitate the best working environments.
Were there any "a ha" moments that got you to where you are today?
My "a ha" moment came from lessons learnt from my difficult career moment.
Once I resolved to focus on both the patients and the growth and development of my team, I noticed that I was able to build the same kind of high functioning and highly engaged team, no matter where I found myself.
I truly believe that everyone wants to work in a happy space, where their ideas are valued and their failures serve as a teaching tool.
What's it like being a leader in your industry?
My main goal is to improve the delivery of quality pharmaceutical services. I know the impact that a highly engaged and functioning team can have on reducing medication errors, improving patient outcomes, and ultimately reducing healthcare costs.
I focus on creating an environment where teaching and learning is the norm. It's very important to note what an integral role that pharmacy plays in disease state management for people using K Health. When medication management is easier, adherence becomes higher.
You worked at CVS, mom and pop shops, and more…why did you join K Health?
I'm passionate about optimizing pharmacotherapy to improve patient outcomes. I've done this on a small scale, but K Health has the tools, leadership and mission to truly make a global impact.
I believe that K Health's impact on healthcare will not only improve patient outcomes and quality of life, but will also have a positive impact on National Health Expenditure Data.
K Health provides healthcare as it ought to be. I am very honored to be a part of K Health.
Name a few things you're most proud of.
1. The impact I've had on many patients' lives in the various communities that I have served.
2. The role I play in continuously mentoring many future pharmacy leaders.
3. The high functioning, highly engaged teams that I've had the pleasure of being a part of.
4. K Pharmacy is now licensed in 42 states, and pending for six more! In just the last six months, I passed 17 state "pharmacy law exams."
What advice do you have for other women looking to explore a career like yours?
Always remember your WHY—the reason you decided to be a pharmacist.
Also, view every job as an opportunity to teach the thing you know and learn the things you don't. This becomes contagious in the team you lead.
Finally, bring your authentic self to work daily, lead with heart, and have fun doing it.
Anything else on your mind?
K Pharmacy is growing…and hiring!
If you're passionate about serving others, have a willingness to learn and share ideas, are curious about healthcare processes, and are an innovative thinker, team player, and sees setbacks as an opportunity to make processes better…join us!!!