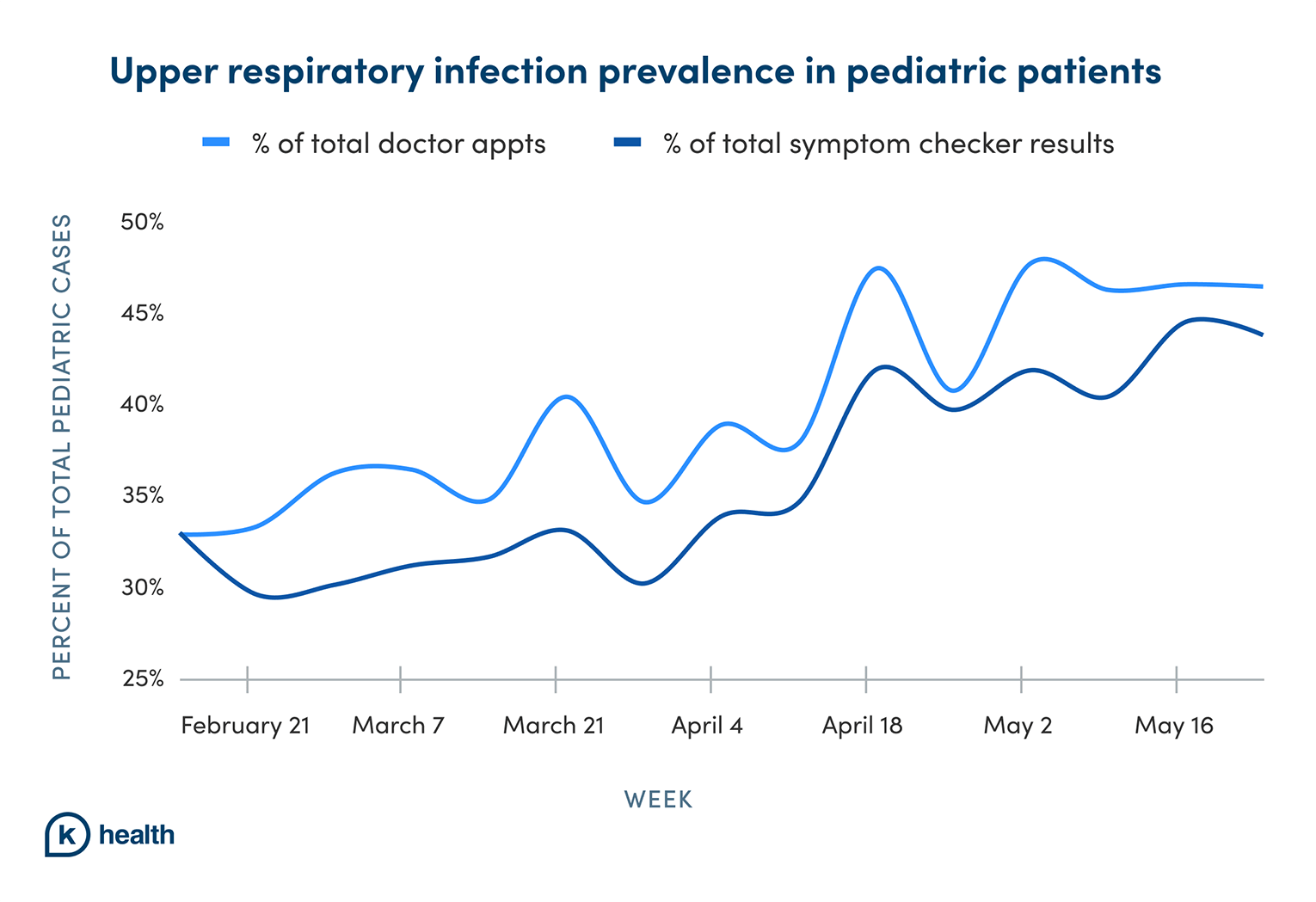 Upper respiratory infection (URI) diagnoses now account for almost 50% of all pediatric cases at K Health, and growth trends are increasing as masks continue to come off. This surge is highly unusual, but has been confirmed by the Centers for Disease Control, who have issued a health advisory on the spread of respiratory syncytial virus (RSV) in kids.
Before the pandemic, upper respiratory infections would typically peak in the winter time and taper off as summer arrived. This year, K Health has seen rates of URI cases double month-over-month since February.
According to Dr. David Shafran, K Health's Director of Pediatrics, the spike in respiratory illness is expected and normal given the easing of COVID-19 restrictions. "In some instances, masks are coming off. And in general, children are just interacting more as the world slowly opens back up. Inevitably, when that happens, kids are going to get sicker."
RSV infections plunged dramatically about 14 months ago, as states imposed stay-at-home orders due to the emerging COVID-19 pandemic. Infection rates remained low until about three months ago. Since late March, federal officials have reported an increase in RSV cases, particularly across southern states.
What can parents do to protect their children?
According to Dr. Shafran, the benefits of a child interacting with other children far outweigh the risks, even with this unusual uptick in RSV.
"You definitely don't want to stop your kids from interacting. That is an incredibly important part of life. It's good for them physically and mentally. And a result of that is that they are going to get a little bit sick sometimes."
There are things you can do to protect your child.
Ways to mitigate illness are as familiar as ever:
Make sure your child is washing their hands often
Maintain social distancing guidelines that comply with your local health department
Wear masks when recommended
Recognizing the signs of RSV in kids
RSV infections typically cause a cold-like illness, but can also cause lower respiratory infections like bronchiolitis and pneumonia.
The symptoms can be similar to COVID-19 symptoms in kids, so it is important that parents stay vigilant and talk to a pediatrician when necessary.
Symptoms of RSV may include:
Decreased appetite
Coughing
Fever
Wheezing
If you suspect your child may have symptoms of RSV, talk to a pediatrician. K Health's pediatric offering provides unlimited, 24/7 chats with a doctor to get advice and treatment when necessary.